In a sea of masked individuals, stand out with the LED light-up masks! Party the lit way with Luminize™️ light up masks for masquerades and parties!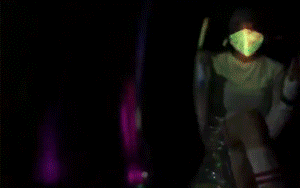 Still not decided on what to wear to a party? No more time to look for and make a costume? Luminize™️  to the rescue!
LumiMasks is a colorful, brilliant costume that will make you stand out in an effortless way! Simply turn on the colorful masks! You're ready for your costume party in seconds.
LumiMasks comes in 7 different light settings you can control with a button. It also includes 5 flashing modes so you can get creative with your mask!
Great for rave parties, costume parties, Halloween festivals, and masquerades
Can you breathe in this mask? Yes, you can. The LumiMask is made from breathable fiber and luminous fabric - no need to worry about heat, radiation, and feeling uncomfortable.
WIRELESS AND RECHARGEABLE
USB-powered, you need no wires to wear this colorful mask! An hour of charging makes the mask work for up to 4 hours.
Stand out in the party with Luminize™️ 
Specification:
Material: Fiber optic cloth/LED
Size: 18*10*3CM/7.1*4*1.2''
USB Charge