✅ WORLDWIDE FREE SHIPPING
✅ 30 DAY MONEY BACK GUARANTEE
✅ FLASH SALE TODAY ONLY
 revolutionary facial cleansing brush that lifts away dirt, oil, and makeup residue for beautiful skin.




EXPERIENCE EFFORTLESS SKIN CLEANING WITH THIS TRAVEL-FRIENDLY, ULTRA-HYGIENIC DEVICE.
You have probably been at the sink for 10-15 minutes trying to clean your face completely. In the process, you can overly irritate your skin and agitate it to create even more oil and bacteria later...
When you don't clean your skin properly you end up leaving dirt, oil, make-up residue on your skin, this could leave your pores clogged which can create acne and scarring!

FINALLY you can clean your skin the RIGHT way and avoid oily skin & acne forever by using our...
SONIC FACE CLEANSER & MASSAGER
Sonic Face Cleanser & Massager is the most viral facial cleaning device and has repeatedly proven its effectiveness. Incorporating it's eight customizable intensities this device removes impurities, oil, and dead skin cells. Liftoff dirt, oil, make-up and also get a gentle massage at the same time for clean and clear skin in under 3 minutes!
REMOVE DIRT, OIL, MAKE-UP & MORE
✨ INNOVATIVE SKINCARE DEVICE - Cleanse your face of all dirt, reduce pore size, erase fine lines, and exfoliate your skin with a single handheld device! 

💄 QUICK MAKE-UP REMOVAL: No more wasting time for 10, 15, or even 20 minutes just trying to remove make-up after a long night!

💆‍♀️EXPERIENCE DEEP CLEANSING AND A FACIAL MASSAGE - Made of top grade silicone, the PHENOMIC™ - Magic Face Cleanser: Sonic Face Cleanser & Massager applies gentle pulsations to your skin using thousands of silicone micro fingers, which massage your facial muscles and exfoliate at the same time. The device is portable and waterproof, and it can run for more than a month without recharging!

👶RESTORE YOUR YOUTHFUL GLOW - High-frequency sonic pulses allow the removal of dirt, oils and makeup residues. Low-frequency pulses boost blood circulation in wrinkle-prone areas, increasing the production of collagen and elastin to restore the skin's firmness and elasticity. PHENOMIC™ - Magic Face Cleanser: Sonic Face Cleanser & Massager allows you to decide which treatment is best for your skin.

🎁 MAKES A GREAT GIFT for mom, wife, best friend, or to someone special. 
SAFE FOR YOUR SKIN & PLANET 🌎
The PHENOMIC™ - Magic Face Cleanser: Sonic Facial Cleanser & Massage is made with FDA Grade Silicone and ABS!
Making it safe for all skin types from Normal, Dry, Combination, and Oily!

We guarantee our device will last you almost 400 uses on each charge plus its travel-size, SAVE ON WATER AND SOAP PRODUCTS!
ULTRA CLEAN SKIN IN 3 STEPS:
Turn on, apply any facial cleanser, wet brush surface,

Cleanse and rinse your face.

Use for one minute twice daily with any facial cleanser.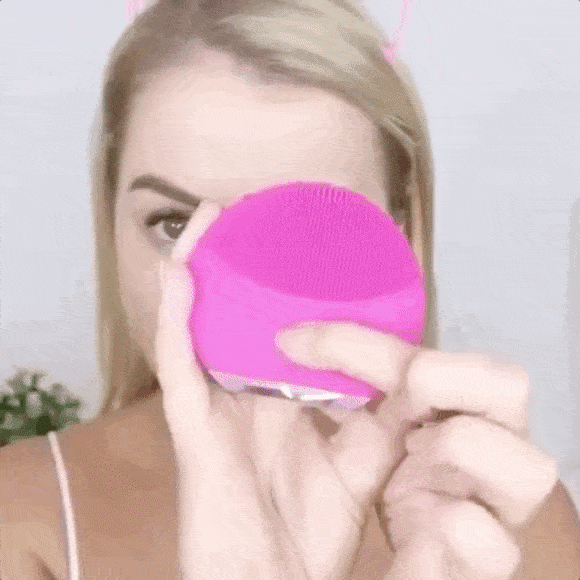 FEATURES:
New Sonic Cleansing Technology uses thousands of pulsations per minute for deep and thorough facial cleansing.
High-quality silicone facial cleansing brush allows you to thoroughly cleanse your face.
Dual-purpose device. One side for cleansing and the other side for massaging your face.
Waterproof and portable design for ease of use and convenience. Use it with your favorite non-abrasive cleanser.
No brush-heads replacement needed and no pain from harsh nylon bristles. Much safer than other facial cleansing brushes.
WHAT YOU GET:
1x PHENOMIC™ - Magic Face Cleanser: Sonic Face Cleanser & Massager

1x USB Charging Cable

1x Instructions Booklet
SHIPPING & DELIVERY
We currently offer 4 - 15 Days Free Worldwide Shipping.
We also offer paid insured shipping which means that your order includes insurance for if your product is lost / damaged or stolen.
OUR GUARANTEE
We have an iron-clad risk-free guarantee. If you aren't satisfied with your product for any reason, you have up to 30 days after receiving your product to contact us and ask for a full refund.